Boiron - experience, quality and professionalism
As a world leader in frozen fruit and vegetable purees, with annual sales of more than 15,000 tons of products in 80 countries, Les vergers Boiron's experience dates back more than 40 years.
The high quality of the products is the result of a rigorous selection of the finest raw materials combined with professionally tested processing techniques, adapted to each fruit and vegetable, carried out in the company's ultra-modern plant in Valence, France.
Mission for Excellence
Boiron makes it its goal and mission to help professional chefs in the food and savoury, sweet and beverage industry with a product line constantly tailored to their requirements. Driven by this mission, the company selects fruits and vegetables from the best sources around the world, then experts harvest and process them using techniques inherited from the Champagne sector with knowledge that guarantees authentic taste, color and texture.
Quality of production
Boiron uses a specific and tested processing process for each fruit and vegetable to ensure that their original qualities and nutrients are preserved, and after processing, they are protected by deep freezing, which allows a long shelf life, guaranteeing professionals availability of products throughout the year.
Taste and origin
Boiron products have an exceptional and authentic taste, colour and texture, as close to fresh fruit and vegetables as possible. No colours, thickeners or preservatives are used in the production process, which gives an incredible subtlety to the taste of the fruit and vegetables in the product.
With Boiron's range, the convenience for the professional is unparalleled - save working time and control costs with ready-to-use, simple products. The packaging is designed to satisfy the requirements of any profession in the culinary industry.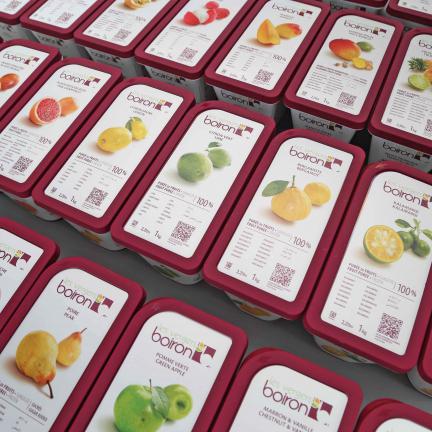 Passion for taste
Behind Boiron's efforts is a passion for taste and authenticity, and customer delight gives real meaning to the company's work.
Every professional can rely on Boiron's unique expertise in the production of its products, on the growers who supply the company with fruit of excellent quality, on the network of distributors worldwide and on the company's staff, without whom nothing would be possible.